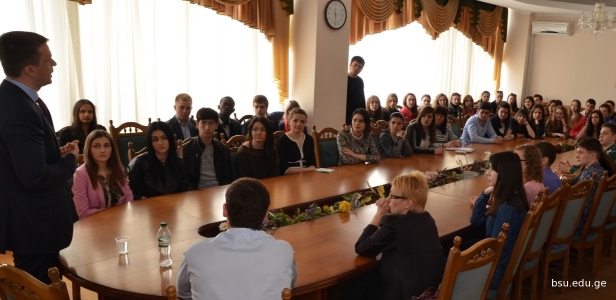 Faculty of Law of Shota Rustaveli State University was founded in 1991 and functioned as an independent structural unit till 2006, when it was incorporated into the Faculty of Social Studies, Business and Law. Since 2014 the Faculty of Law resumed academic activities on the independent track.
The Faculty of Law ran Georgian and Russian sectors (Russian sector was opened in 1999 and closed in 2007) and offered courses in the International Law (in 1997- 2007).
The Faculty has always been heavily supported by the Ivane Javakhishvili Tbilisi State University, which really is Alma Mater of the Faculty of Law at BSU.
The Faculty recruited distinguished scholars and practitioners to establish Department of Criminal and Civil Law. It has become a tradition to invite renowned legal practitioners to give lectures.
Consistently supporting study and research over years, the Faculty has reached excellence in teaching international law, making it priority from the very inception.
Currently the Faculty offers both BA and MA degrees; Bachelor of Law program was awarded State accreditation by the Accreditation Council of the National Quality Assurance Center in 2011; Master's degree programs were awarded state accreditation in 2012.
Since 2008, the Faculty has been developing its infrastructure, including legal clinics, moot court room, which made it possible to successfully run theoretical and practical trainings in criminology;
The Faculty of Law is a member of the European Law Faculties Association. The network of the HEIs with the established close relations includes the Graz University, Lithuania Nicholas Romero State University, Kiev Law University at the Ukrainian Academy of Sciences, University of Istanbul, Turkey Yeditepe university and others. The Faculty has signed memoranda of cooperation with over 30 public and private organizations.
Currently the academic personnel of the Faculty include Professor emeritus Razhden Putkaradze, three professors, five associate and six assistant professors, as well as twenty adjunct lecturers.
The Faculty of Law became member of the Association of the European Faculties of Law on 16-19 April, 2015.